Boarding Your Pet With Us
Boarding Admission and Discharge Times:
Monday through Thursday 8am-11am and 3pm-6pm
Friday 8am-11am

There are no boarding admit or discharge times available on Saturday or Sunday.
If you cannot arrive between the times above, $15 will be added to the total cost of your pet's boarding stay.
Boarding rates per night
One cat per enclosure: $30
Additional Cat in same enclosure: $25
One rabbit per enclosure: $30
Additional rabbit in same enclosure: $20
One guinea pig, chinchilla, or rat per enclosure: $25
Additional guinea pig, chinchilla, or rat in same enclosure: $15
One ferret per enclosure: $26
Additional ferret per enclosure: $18
Sorry, we do not provide boarding services for dogs of any size.
---
Our small mammal boarding area is unique in Madison and we pride ourselves in taking excellent care of your small mammal pets. Unlike almost all other facilities who do small mammal boarding in Madison, all you need to bring is your pet! We provide an enclosure, bedding, toys, and daily interaction with your pet to keep them happy and entertained. Rabbits, Ferrets, Guinea Pigs, Chinchillas, Mice, Rats and other furry four legged pets are all lovingly cared for by our professional staff.
Healthy Pet is now requiring that all rabbits be vaccinated to protect against Rabbit Hemorrhagic Disease.
Your rabbit must have had the first dose of the Rabbit Hemorrhagic Disease Vaccine at least two weeks prior to checking-in for boarding.
Read more about Rabbit Hemorrhagic Disease HERE
---
Pets staying in our small mammal boarding room are fed high quality Oxbow hay and pellets. As a special treat, your pet will receive a variety of fresh vegetables every day! During the growing season, some of the vegetables that are fed to your pet come from Dr. Christman's own garden.
Our staff will do our very best to provide your pet with a happy and pleasant experience. You have our assurances that we will care for your pet with the love and compassion as if they were our own.
In our cat only boarding area, pets staying with us have access to a spacious area to play and lounge. Our deluxe cat condo's give each cat up to three individual rooms depending on our booking status at the time. Also each cat gets individual playtime each day with one of our boarding staff and spends hours out of their condo to stretch their legs.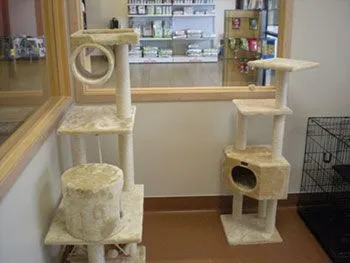 All of our boarding areas can be clearly viewed from our lobby and other public areas.
Feel free to take a look the next time you visit us!
If you would like to board your pet with us, please call or email us to make a reservation.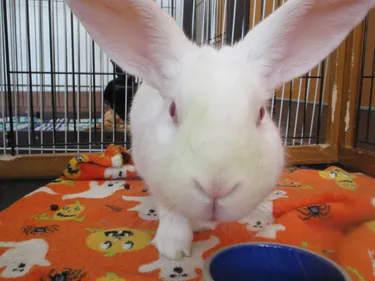 ---
In order to best care for your pet, we would like to let you know our policies and recommendations for animals when boarding with us.

IF THIS IS YOUR FIRST TIME BOARDING WITH US, PROOF OF VACCINATIONS MUST BE PROVIDED TO HEALTHY PET VETERINARY CLINIC BEFORE YOUR PET IS ADMITTED FOR BOARDING.
If proof of current vaccinations are expired or not provided prior to checking-in
your pet will not be allowed to board with us.
All cats must be current on immunizations against Rabies and Feline Distemper (FVRCP).

All ferrets must be current on immunizations against Ferret Distemper. Vaccination against rabies in ferrets is not required by law but it is highly recommended.

Rabbits must be vaccinated against Rabbit Hemorrhagic Disease.

All other small mammals (guinea pigs, rats, hedgehogs, chinchillas etc.) do not require any vaccinations. We highly recommend that your pet have an exam by a veterinarian at least once a year. We are happy to provide an examination with one of our veterinarians while your pet is staying with us.
---
Things To Send With Your Pet
Enough of your pet's regular food to last for their entire stay. We can provide food for your pet, however what we feed is likely not what your pet normally eats. Switching foods suddenly can cause your pet undue stress. If you are boarding a small mammal, we will provide high quality Oxbow brand hay, pellets and fresh vegetables every day.
Vaccination records – Non-Client Cats, Ferrets and Rabbits. If you are not a client of Healthy Pet Veterinary Clinic and if you do not provide records for required vaccinations, we will vaccinate your pet at your cost as part of the boarding check-in process.
Any medications or supplements your pet may currently be taking. There is a fee for giving your pet any medications or supplements of $2 per day.
A small pet bed or blanket that smells like home can be comforting to your pet in a strange environment. Bringing bedding or a blanket is optional. Please only bring one item of bedding from home. We have plenty of bedding that will keep your pet comfortable. If the bedding you bring becomes soiled, we will clean your bedding at no extra charge however you are responsible for damage to your bedding while your pet is staying with us.
Please DO NOT Bring
Food or water bowls or bottles of any kind. We have an ample supply of bowls, ceramic crocks and bottle feeders for your pet. Bringing your own bowls increases the chance of them getting mixed into our stock and difficult to find again as we clean and change water and food bowls often.

Anything that is valuable or irreplaceable. Please do not bring a very special toy, delicate or irreplaceable bedding or other item that is extremely valuable to you or your pet. While we take every effort to keep items you bring clean and safe, we ask that you not bring anything that you cannot do without. It is better that you let us use our supplies and keep your valuables at home.
If you have any questions about boarding your animals with us, you can email us at our contact us page or call us at 608-294-9494.